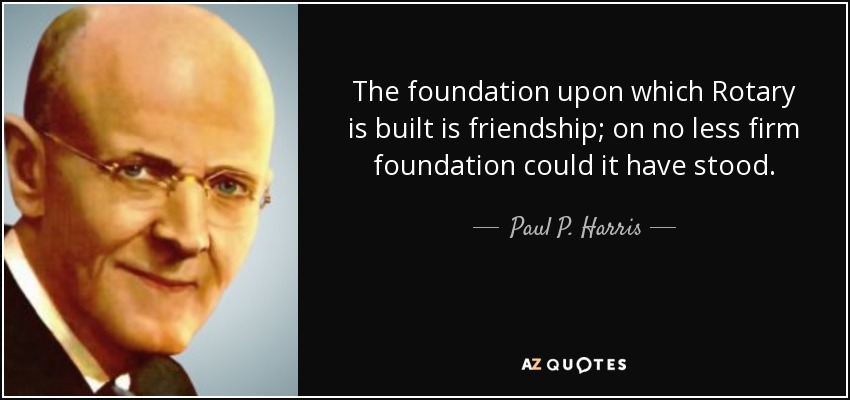 ROTARY OVERVIEW
Rotary is a worldwide organization of more than 1.2 million members (business, professional, and community leaders). There are over 32,000 Rotary clubs in more than 200 countries and geographical areas. Clubs are nonpolitical, nonreligious, and open to all cultures, races, and creeds.
BRIEF HISTORY
The world's first service club, the Rotary Club of Chicago, was formed on 23 February 1905 by Paul P. Harris, an attorney who wished to capture in a professional club the same friendly spirit he had felt in the small towns of his youth. The Rotary name derived from the early practice of rotating meetings among members' offices.
Rotary's popularity spread, and by 1921, Rotary clubs had been formed on six continents. In 1922, the organization adopted the Rotary International name. As Rotary grew, Rotarians began pooling their resources and contributing their talents to help serve communities in need. The organization's dedication to this ideal is best expressed in its motto:
"Service Above Self"
MISSION OF ROTARY INTERNATIONAL
The mission of Rotary International, a worldwide association of Rotary clubs, is to provide service to others, to promote high ethical standards, and to advance world understanding, goodwill, and peace through its fellowship of business, professional, and community leaders. 
ROTARY CODE OF ETHICS
In 1932, Rotarian Herbert J. Taylor was asked to take charge of a company that was facing bankruptcy. He created a 24-word test for employees to follow in their business and professional lives that became the guide for sales, production, advertising, and all relations with dealers and customers. The survival of the company is credited to this simple philosophy.
Now known as "The Four-Way Test", this code of ethics was adopted by Rotary in 1943. It has since been translated into more than 100 languages. It simply asks the following questions:
Of the things we think, say or do
Is it the TRUTH?
Is it FAIR to all concerned?
Will it build GOODWILL and BETTER FRIENDSHIPS?
Will it be BENEFICIAL to all concerned?
ROTARY STRUCTURE
Rotary is a grassroots organization, and most of its humanitarian efforts are carried out at the club level. The district and international structure is designed to support the clubs and help them increase service efforts in their communities and abroad.
Clubs
Rotarians are members of more than 32,000 Rotary clubs, which belong to the global association of Rotary International (RI). Each club elects its own officers and enjoys considerable autonomy within the framework of Rotary's constitution and bylaws.
Districts
Clubs are grouped into approximately 530 RI districts, each led by a district governor, who is an RI officer and leads about 50 clubs. The district administration, including assistant governors and various committees, guides and supports the clubs.
The flow of money……….
Rotary encourages projects to be initiated and managed at the club level.  However, large projects may require "teaming" of local clubs or may even be initiated at the district.  Service projects are funded at all levels using a matching grant approach (District, RI and Foundation).
ROTARY INTERNATIONAL
RI is headquartered in Evanston, Illinois, USA, with seven international offices in Argentina, Australia, Brazil, India, Japan, Korea, and Switzerland. The office of Rotary International in Great Britain and Ireland (RIBI), located in England, serves clubs and districts in that region. RI is governed by the 19-member RI Board of Directors, which includes the RI president and president-elect. They meet quarterly to establish policies. The Council on Legislation, Rotary's "parliament," meets every three years to deliberate and act upon all proposed resolutions submitted by clubs, district conferences, General Council, and the RI Board.
Rotary International's revenue is received primarily from annual membership dues; and other activities (convention, publications, supplies and advertising). In 2006-07, RI's total revenue was $92.4M.
ROTARY FOUNDATION
In 1917, RI President Arch C. Klumph proposed that an endowment be set up "for the purpose of doing good in the world", with an initial donation of $26.50.  In 1928, the fund had grown to more than $5,000, it was renamed The Rotary Foundation, and it became a distinct entity within Rotary International. The Rotary Foundation is a not-for-profit corporation that promotes world understanding through international humanitarian service programs and educational and cultural exchanges. It is supported solely by voluntary contributions from Rotarians and others who share its vision of a better world.
After Rotary's founder, Paul P. Harris, died in 1947, contributions began pouring into Rotary International, and the Paul Harris Memorial Fund was created to build the Foundation.
Since 1947, Rotarians have contributed more than $1.9 BN to The Rotary Foundation to help Rotary do good in the world.
Since 1947, the Foundation has awarded more than US$1.1 billion in humanitarian and educational grants, which are initiated and administered by local Rotary clubs and districts.
Foundation monies are held in several Funds including:

Annual Programs Fund (3 year investment cycle)
Permanent Fund
PolioPlus Fund

Because of a three-year investment cycle, all money donated to the Annual Programs Fund are used to fund Foundation programs.
In 2006-07, The Rotary Foundation's total revenue was $238.8M.
In November 2007, RI announced a partnership with the Bill & Melinda Gates Foundation that will inject a much needed $200M into the global effort to eradicate polio.
Created by Phil Mauger - November 2008